The SIS October 2019 Release is now available,
Here are some key highlights of new SIS Campus Solutions and CalCentral functionality.
Students
Improved Display for Multiple Swaps in CalCentral
A display improvement has been made to Swap information provided to students on the Semesters card in CalCentral. Specifically, for situations where a student may initiate more than one swap with the same enrolled class. 
Navigation: Cal Central>My Academics>Semesters card
Self Service Financial Aid (FA) Summary in CalCentral
Current students will now have the ability to run their FA Summary in CalCentral. This report provides students with information about their awards, cost of attendance, and optionally their Estimated Family Contribution for all, or a selected range of aid years back to 2010-2011. Former students can request this report from Cal Student Central. For academic years prior to 2010-2011, all students will need to submit a Request for Confidential Information form found on the Financial Aid website.
Navigation: Cal Central>My Finances>Financial Resources>Financial Assistance>My Financial Aid Summary Report or My Finances>View Awards>My Financial Aid Summary Report link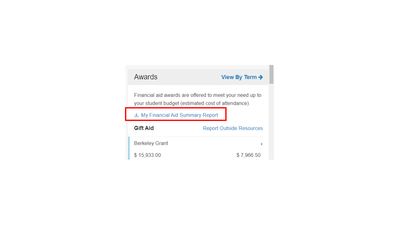 Financial Aid Profile Card No Longer Shows Holds
The Financial Aid Profile card no longer shows academic holds. Students can still view their holds on the My Academics card.
View By Term Card of Financial Aid Awards Improved in CalCentral
Improvements to the View By Term view of financial aid awards to simplify display of cents in awards, align columns and provide award group headers. 
Navigation: Cal Central>My Finances>View Awards>View by Term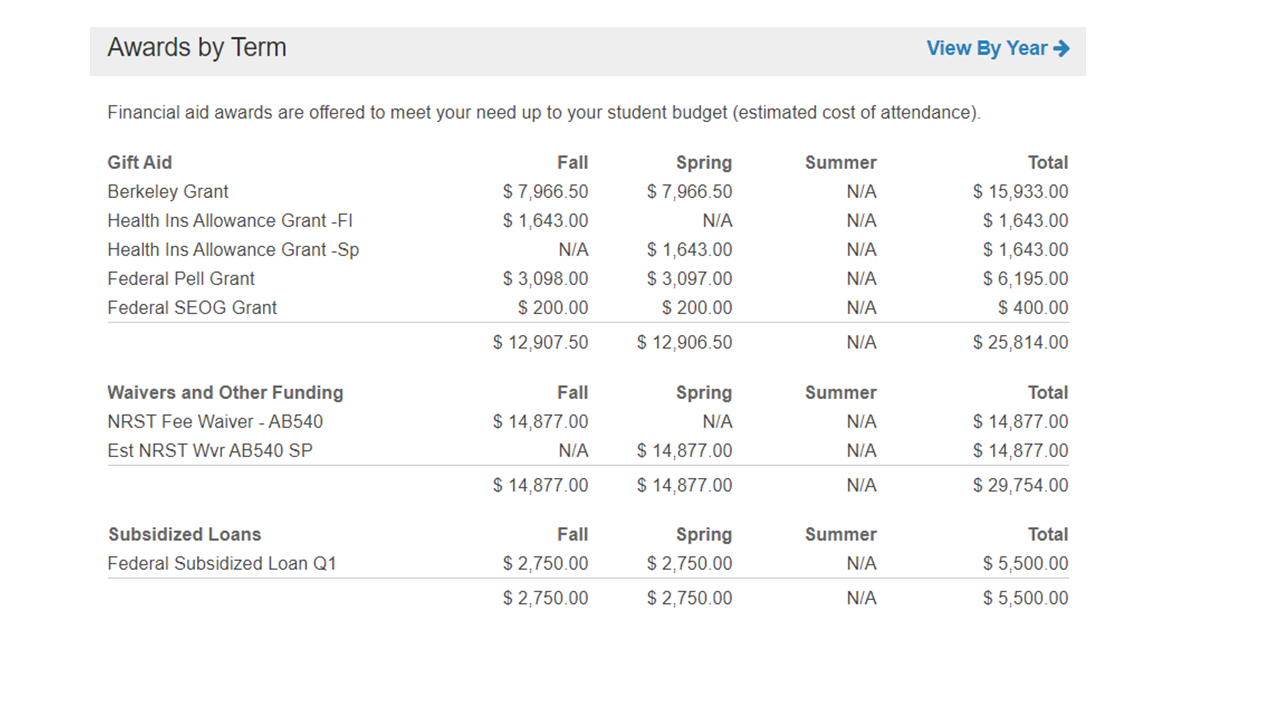 CSV Download button in CalCentral
Students can now download a CSV file of their Billing transactions for their records. This can be accessed by going to the Transactions card and clicking the "Download" button in the top right corner of the card. If opened with Excel, column widths may need to be expanded for data to render properly.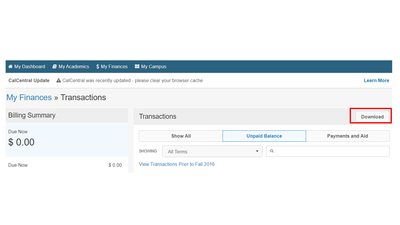 Advisors/Staff
Improvements to Incomplete Grade Information in Cal Central (Advisor View)
In CalCentral, "I" (Incomplete) Grade information will now display the date that the "I"grade is scheduled to lapse to an F or if an "I" grade is Frozen.
Navigation: Cal Central>My Academics>View Academic Summary