The SIS April 05, 2020 Release is now available.
In response to the request from the Executive Vice Chancellor and Provost A. Paul Alivisatos and Chair of the Berkeley Division of the Academic Senate Oliver O'Reilly, all Undergraduate Spring 2020 standard grade-based and elective passed/no passed enrollments were converted to the default passed/not passed (DPN) grading basis on Sunday, April 5, 2020. This will appear as "DPN" on the My Academics card in CalCentral.

Classes that were originally passed/not passed-only (PNP) will remain within that grading basis and were not changed. Those will continue to appear as "PNP" on the My Academics card in CalCentral.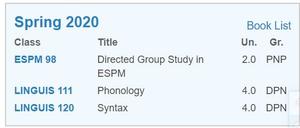 Students who wish to return to the graded option are able to do so.  Undergraduate and graduate access to change the grading option for Spring 2020 in CalCentral begins today, Monday, April 6 and ends on Friday, May 8, 2020 at 11:59PM.  Please note that this option is not available for students at the School of Law.  
This link provides a guide for students who wish to change back to a Graded option from DPN.  Please share with any students who may contact you with questions. 
Student Guide - Change Grading Option 
For further background on this topic, please reference the following links: 
Grading Principles for Spring Semester 2020
FAQs for the spring semester grading policy
Thank you for your attention. We wish you and yours wellness during these challenging times. 
Warm regards, 
Rana Silver
Functional Director
OCIO Enterprise Applications: Student Information Systems
Walter Wong 
University Registrar