Generating an Academic Progress Report in CalCentral
The APR tool is in its initial stages of release. Beginning October 8, L&S undergraduates can use the APR tool to confirm progress in University, UC Berkeley Campus, and College of Letters and Science requirements. 
NOTE: More work is needed in the APR to accurately track completion of Major and Minor requirements. Major requirements for about one third of all L&S undergraduate majors are up-to-date in CalCentral. Major requirements for all other majors are in the process of being reviewed and validated. Your major advisor knows if the requirements for your major are up-to-date in the APR.
A requirement shows as Satisfied if a student has successfully completed an allowable course with the required minimum grade (i.e. Taken 

 ), or if there is an allowable course In Progress 

 . 
NOTE: If the In Progress course is not completed with an acceptable grade, the requirement status will change back to Not Satisfied. Please note that for requirements that must be completed with a letter grade, a course completed with a Passed grade is not acceptable. Be sure to confirm whether or not a letter grade is required before changing a grading option for an In Progress course. 
Students can now check the status of their academic progress in CalCentral.
Checking the status of the Academic Progress Report
Step 1: Log in to CalCentral.
Step 2:  Navigate to the My Academics tab, go to Degree Progress in the middle column and select the Academic Progress Report link.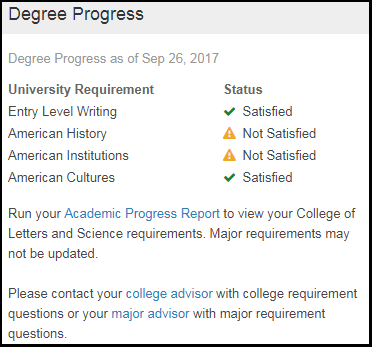 Understanding the page layout
1. Note that the APR is organized in a hierarchy format - course requirements are categorized according to University and Campus Requirements, College Requirements, each student's respective Major Requirements, and Additional Coursework.
2. You can choose from the options to Collapse All or Expand All tabs based on your preference. Click on View Report as PDF to save a pdf version of the current report.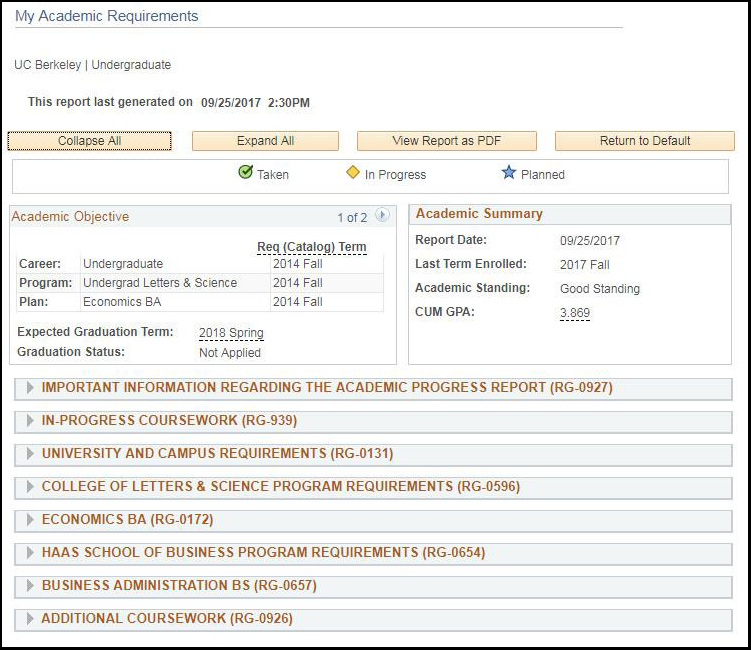 ---
3. Be sure to understand the course status icons as they inform whether a course has been Taken or is In Progress. 
NOTE: The Planned status is not being used at this time. A reminder that an In Progress course must be completed with an acceptable grade (which for some requirements must be a letter grade), otherwise the status will change to Not Satisfied. 

---
4. The Academic Objective and Academic Summary windows present information about major(s), graduation terms, cumulative GPA and others.
NOTE: Students declaring more than one major at a different college should click on the Next Page icon 

on the top right of the Academic Objective window to view detailed information about another declared major. Minors and double majors in the same college will show up all on the same page of this section, with no page toggle.

---
5. Requirements are noted as Satisfied or Not Satisfied. A Satisfied requirement will not show the details unless you click on the arrow icon 
to expand the section and see how the requirement was satisfied. These reveal information about how the requirement was satisfied.
NOTE: In some cases, the revealed information will display a generic note such as "Student satisfied requirement by way of exception from L&S 1" or "Student satisfied requirement by way of exception from DARS." There is no need to be concerned that a particular course does not appear. These notes confirm that the requirement is Satisfied and completed.

You can also choose to expand/collapse to see more/less details accordingly.

---
6. Under the requirements tabs, a table of course(s) information appears. They contain information about Course, Description, Units, Term taken, Grade and Status.
Select the course link to view information about the course.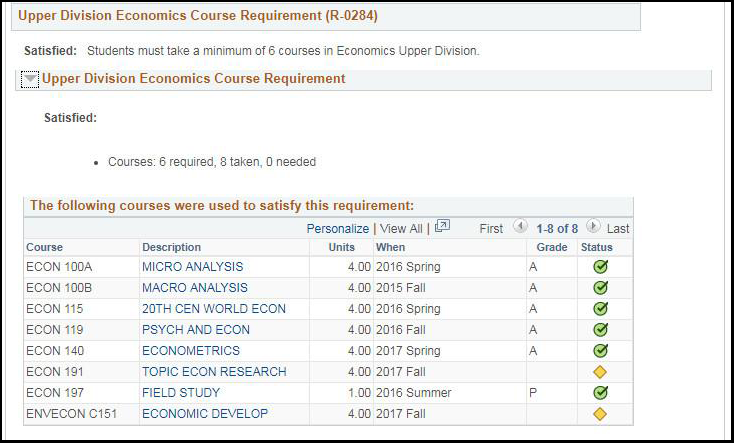 ---
7. Requirements may also be Satisfied with transfer credit. Please note that these courses will appear as their UC Berkeley equivalent. For example, if a course was taken at Berkeley City College and it is equivalent to a UC Berkeley course, the UC Berkeley course would appear on the APR. The format of the posted grade, however, which begins with a T (e.g. TA), will identify that the requirement was completed with a transfer course.
If there is no direct equivalent for a transfer course to a UC Berkeley course, it will appear as a pseudo course (e.g. HISTORY TRLD) in the APR.
For more information please refer to the Transfer Credit Report.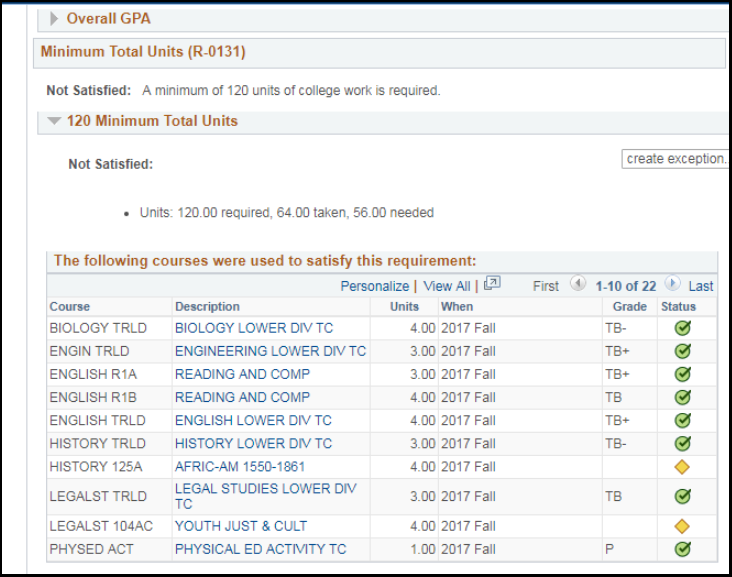 For detailed information regarding the incoming transfer course (e.g. course #, title), please refer to the Transfer Credit Report.
NOTE: If you do not have any transfer or test units posted, then the Transfer Credit card will not appear.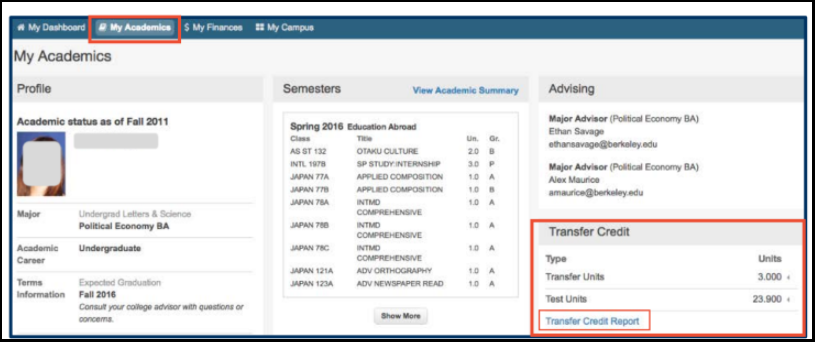 Reporting Errors in the APR
It may be that the APR is missing information, or miscalculating units, particularly for students who were enrolled at UC Berkeley prior to fall 2016. Here is how you can report errors:
For University and Campus Requirements: Open a case with Cal Student Central to report on errors having to do with Entry Level Writing, American History, and American Institutions, American Cultures, 120 Minimum Units, Overall GPA, Pass/No Pass limit, and Senior Residence.
For College of Letters and Science Requirements: Complete an APR Correction Form to report on errors having to do with Reading and Composition, Quantitative Reasoning, Foreign Language, Seven-Course Breadth, and Upper Division Unit requirements.
For Major Requirements: Please check in with your major department regarding the best means to confirm completion of major requirements. You Academic Advisor is listed in CalCentral and on the My Academics page.
For L&S Minor requirements: Use the Minor Completion form.
Technical Support
For technical assistance with CalCentral, please contact SIS Support by phone at 510-664-9000 (press option 6 to reach SIS support) or by email at sishelp@berkeley.edu.