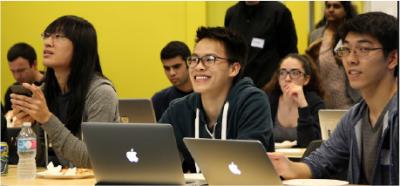 Nearly 70 UC Berkeley students, representatives from the Cal Parents Program, and advising staff gathered in the campus Academic Innovation Studio on Tuesday, March 15 to preview the new Student Information Systems (SIS).
Students were invited to test out the enrollment and financial aid features of CalCentral, a new resource that aims to simplify the Berkeley online experience by centralizing multiple campus systems into one easy-to-use dashboard.
During the event, attendees freely explored CalCentral, viewing budgets through the My Finances module and learning how students will need to navigate the course enrollment process for fall semester 2016.
The event was led by the CalCentral User Experience team. Members of the SIS Financial Aid team and Financial Aid and Scholarships Office (FASO) staff helped facilitate the event, offering assistance and welcoming any and all questions about the new system. Following the workshop, students participated in a short open discussion and provided feedback about their experiences. This feedback is very helpful to the SIS team as it continues to work to improve the student's experience in CalCentral.
---
Get Involved!
The Big Changes Workshop is one of two usability testing events the SIS Project is hosting. The second workshop will be held on Tuesday, April 12 evening. It will consist of two 1-hour long sessions one at 6pm and one at 7pm
Sig up: If you are a UC Bekeley student and want to participate, please register through Eventbrite with your @berkeley.edu email so the SIS team can set you up in the demo system. Please bring your laptop and make sure you can login via AirBears2 (required to access the test system).