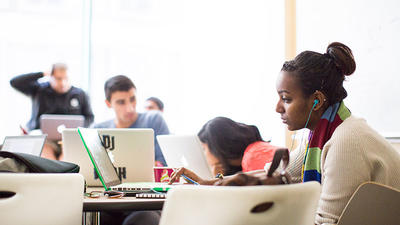 In preparation for UC Berkeley's biggest student information technology change in three decades, on March 8th, graduate and undergraduate advisors shared their opinions and ideas about how the new Student Information Systems (SIS) can better address the needs of Berkeley students and advisors.
Through different activities and mockups, the goal of the session, led by the CalCentral User Experience team, was to learn more about how advising appointments are managed and conducted, and use these findings to design ways to better integrate the new advising tools, such as Advising Appointments, Academic Planner, Shared Notes, and Academic Progress Report into CalCentral in the next few months.
A team of about 30 advisors shared their thoughts on how to improve student-advisor interactions through the new SIS tools and on possible future enhancements such as shared advising notes, a personalized dashboard, and progress reports.
One of the main concerns voiced by the advisors was the need to find ways to humanize the institution, have real personal experiences with students, and create a sense of belonging through cohort-focused tools that foster pleasant and supportive interactions.
Ultimately, the workshop was a great opportunity to share ideas and insights about the needs of the advising community for future technology enhancements.