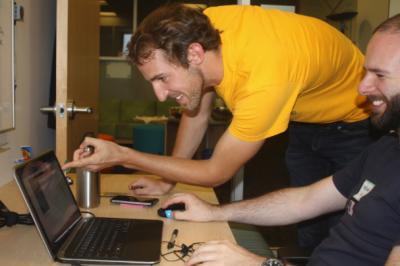 Early this month, over thirty staff from the SIS project's technical and functional teams participated in "Code Fest," a two-day event designed to create a focused, meeting-free environment for advancing Go-Live 3 development and beginning work on Go-Live 4 projects. The event was an experiment to measure the kind of impact this environment would have on productivity, and the results were evident.
Thoughtful planning was one of the keys to Code Fest's success. Team members set individual goals early in the week and identified with whom they would need to partner to complete their goals. "People knew in advance who would be tapping them on the shoulder," said Technical Lead Chris Cameron, "and that was the priority."
As Portal/User Experience Team developer Christian Vuerings explained, keeping one's schedule clear helped to maintain momentum, "The big thing was that everyone was available, and everyone was super fast-paced. Why? Because there were no other meetings. We accomplished a major goal in one hour -- that doesn't usually happen."
Currently, schedulers submit information to the Office of the Registrar, which then runs compliance reports, a process that can take several weeks. Ross Nolan (Student Records Team) and Kristeen Anderson (Data Conversion, Reporting and Data Warehouse Team) created a Scheduler Compliance Dashboard in Campus Solutions to help department schedulers run these reports in real time, which will result in less work for the schedulers and less work for the Office of the Registrar. "It was great to have a chunk of time to work together," said Kristeen.
Day One concluded with dinner at Technical Team Director Karen Kato's home. "What struck me was how organically people connected," said Anne Aaboe, Cross-Campus Team Lead. "We'd planned to play games, but then conversations started happening between people who don't normally have a chance to interact. That was a treat!"
Based on the success of this experiment and survey feedback, the SIS project team has now designated every Tuesday afternoon as a "Meeting-Free Zone," so that team members can be more accessible to one another and continue to benefit from the Code Fest model.
 
Pictured: Richard Wood (seated) and Christian Vuerings (standing)