The SIS October 2020 Release is now available.
Here are some key highlights of the new SIS Campus Solutions and CalCentral(link is external)(link is external)(link is external)(link is external) functionality:
CalCentral
What-If Academic Progress Report now available to undergraduates
Undergraduate students now have access to run a "What-If APR" to see how their current course work would apply to a different major.
"Officially Registered" definition simplified
"Not Officially Registered" alert language on Status and Holds card clarified to improve "Officially Registered" definition.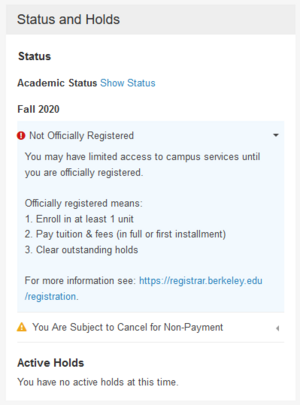 Class Information card updates
The Class Information card now displays the "Instruction Mode" and other key class details.
An "announcements" area has been added allowing students to access the most up-to-date information.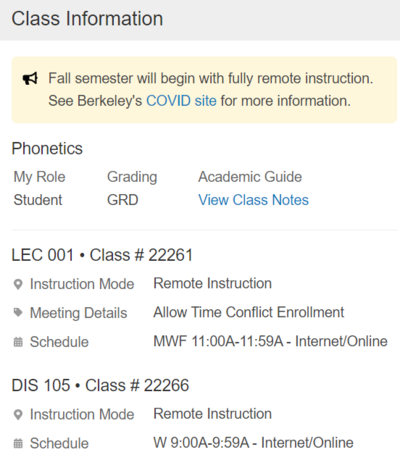 Campus Solutions
Homepages created for Schedulers and Enrollment Managers
Department Schedulers and Enrollment Managers now have their own homepages in Campus Solutions, greatly improving their user experience. Homepages serve as quick access points by linking to navigation collections for Campus Solutions related business processes. These collections include links to all CS pages needed for related business processes as well as links to reports, external websites, and how-to documentation. Homepages Guide.
Graduate Student Affairs Officers Homepage updated
The GSAO Homepage has been updated with improved icons to meet the newly established style guide. This will provide a seamless experience between homepages for GSAOs who are also Schedulers and/or Enrollment Managers.
Scholarship Matching Process improvements
Financial Aid and Scholarships staff who manage the scholarship matching process now have access to enhanced features including student information pages and scholarship matching process funding summary report.